After the success of the Womens March, its International Womens Day on Wednesday 8 March. Here, 15 influential women, from Lena Dunham and Nicola Sturgeon to Susie Orbach, nominate a crucial next step towards equality
Lena Dunham: keep on protesting
I think the activism and organisation thats happening now is showing protest matters, calling your representatives matters, becoming involved in community organisations matters, sending your donations every month matters. It has never mattered more to show up with your money, with your body, with your time and with your voice than it does right now. Lots of people had valid criticisms of the Womens March, but it was the largest global protest weve seen and thats because every single person made the choice to take time off work, to give of themselves, to give their bodies and fill space and show they wanted to say no. That scares people and even if right now were not seeing the result we want, the government has been warned. They understand they are not supported. They are fighting an uphill battle against women and allies of equality in all of its forms.
Lena Dunham is an actor, writer, producer and director
Nicola Sturgeon: great childcare is where it starts
Its a source of frustration that, decades on from legislation that was supposed to pave the way for equality of the sexes, too many gaps remain. I have made equality a key feature of my government, with a gender-balanced cabinet, one of very few in the developed world.
However, if there is one specific policy area which can permanently advance the cause of gender equality, I believe the answer lies not in the workplace itself, but in the early years. Delivering high quality childcare as widely as possible is, I believe, fundamental to achieving the kind of equal society that empowers women.
It is a simple fact that, for many women, the barrier to career advancement comes when they are faced with juggling the competing demands of a job and raising a family. And in too many cases, the lack of adequate childcare becomes a decisive factor in preventing women from continuing their careers.
Improving access and affordability in childcare is not an easy challenge and of itself will not solve all gender equality issues. But it is a challenge which must be met if we are to deliver a society which truly has equality of opportunity for men and women.
Nicola Sturgeon MSP is First Minister of Scotland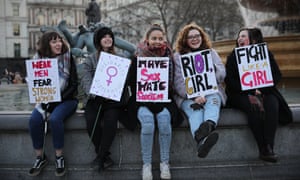 Read more: https://www.theguardian.com/world/2017/mar/05/whats-next-for-the-womens-movement-march-equality