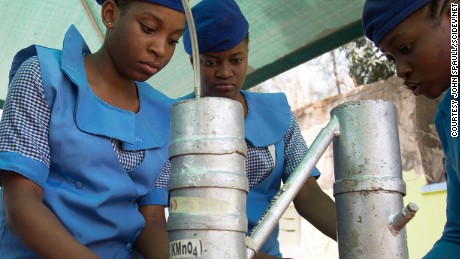 (CNN)Stella Uzochukwu, a former electronics engineer, is doing something profound. She is teaching girls how to code in defiance of Boko Haram, whose brutal crusade against western-style education — among other things — has robbed children of education in northern Nigeria.
School girls in the
Odyssey Educational Foundation
's after school STEM program are being encouraged to pursue careers in science and technology, and have built a robot to tackle the country's waste problem.
For this year's competition, students had to build and program robots that could pick up and drop off pieces of garbage on a play area. Unused plastic bags have also been turned into play marbles by the girls.
Making learning safer
"There was a particular incident last year where we wanted to engage kids in coding during the school holidays", explains Uzochukwu, "but none of the kids were allowed to come into school because of these attacks".
"Their parents wanted to keep them at home so we had to cancel it", she adds, "it was very sad because we wanted to teach them how to write apps".
The mentality amongst parents in Nigeria is "they'd rather die with their children at home than send them to school to die on their own".
Despite these challenges, Uzochukwu has persevered. Last year, the charity moved into a dedicated center so kids would not have to come into their school after hours, alleviating security concerns.
Encouraging girls
Although the school is co-ed, it has focused its efforts on teaching girls science and tech, deliberately arranging a ratio of three girls to one boy in its clubs: "Most of the boys are already doing maths and science and they love it, but we wanted to encourage it amongst girls as well."
When traveling to India to complete a masters degree in telecoms management, Uzochukwu discovered school clubs in India gave extra STEM tuition to children.
She also noticed that in her masters class of '42 there were just three women, including herself. Upon returning to Nigeria, she set up the charity.
Her seven strong staff go into communities and encourage parents to send their girls to school. Mothers are taught to make soap, creams and other ointments to supplement their income in order to pay for school fees.
The goal is to ensure kids can learn how to repair computers, laptops, and phones, "so when they get out of school they will not be roaming the streets".
"Learning programming, coding and mathematics is what I think marks the difference between underdeveloped and developed nations."
Read more: http://www.cnn.com/2016/06/07/tech/girls-coding-uzochukwu-nigeria/index.html