The 84-year-old widow behind the landmark supreme court decision on gay rights fought $363,000 estate tax and won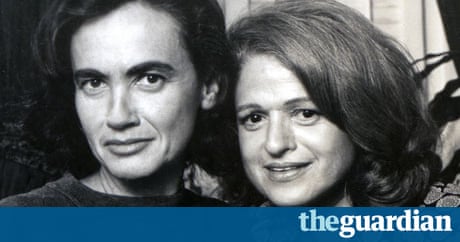 Edith Windsor and Thea Spyer were together for 40 years before they married in 2007. When Spyer died in 2009 Windsor, in the midst of her grief, was ordered to pay $363,000 in estate taxes as the federal government did not recognise the pair's marriage.
Windsor appealed, and won. The supreme court agreed to hear her challenge to the Defense of Marriage Act, or Doma, in December, a decision Windsor told the Guardian had left her "delirious with joy".
"I think Doma is wrong for all of the various ways in which it discriminates against same-sex married couples and against gays all together," Windsor said. "It's enormously satisfying and fulfilling and exciting to be where we are now."
Spyer, she said, would have been proud of her achievement. "I think she'd be so proud and happy and just so pleased at how far we have come. It's a culmination of an engagement that happened between us in 1967 when we didn't dream that we'd be able to marry."
Windsor, now a snappily dressed 83-year-old who is rarely seen without a long string of pearls around her neck, seems to have easily slotted into her position as the public face of marriage equality. But it is a role which must have seemed hard to imagine when in her early 20s, the then Edith Schlain married Saul Windsor, a friend of her brother's. The two separated in 1952 after less than a year.
"I told him the truth," Windsor recalled in an interview with NPR this year. "I said: 'Honey, you deserve a lot more. You deserve somebody who thinks you're the best because you are. And I need something else.'"
Windsor was born in Philadelphia in 1929, in the midst of the Depression. Her parents lost their home and business not long after her birth. In interviews she has recalled identifying with the leading men in the movies she went to watch while growing up, not the woman he was attempting to woo. Despite those feelings, she said she had no awareness of what life as a lesbian could be like.
"I could not imagine a life that way," she told Buzzfeed. "I wanted to be like everybody else. You marry a man who supports you it never occurred to me I'd have to earn a living, and nor did I study to earn a living."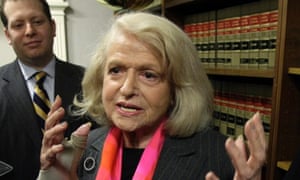 Read more: https://www.theguardian.com/world/2013/jun/26/edith-windsor-thea-spyer-doma